Supermarket Sarah at Selfridges
Some of my products will be sold in Selfridges starting Monday! They are products I designed for my wall installation on the Supermarket Sarah site.
Supermarket Sarah will have a permanent space in Selfridges, on the ground floor,  from the 10th of January and will showcase a mix of vintage finds and designer pieces. See info below and watch this space!…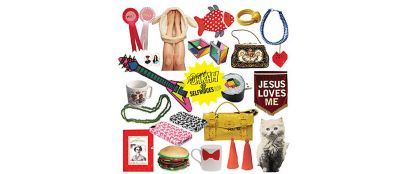 Supermarket Sarah's unique online store, supermarketsarah.com, will be launching offline exclusively atSelfridges London from 10 January.
Already a firm favourite with celebrities, including Damon Albarn and Lily Allen, supermarketsarah.com features photos of wall collages of her collections, which customers are invited to click to buy.
The fashion entrepreneur previously collaborated with Selfridges on an installation in the Wonder Room Concept Store and her new wall on the Ground Floor will showcase an even bigger range of her vintage gems.
It will also highlight new designers who have been added to Supermarket Sarah's growing brand list, including Swedish Blonde Design, Audrey Roger, Mell Elliot, Lynn Hatzuis, Phoebe Eason, Rina Donnersmarck, Henrietta Swift, Garudio Studiage, and Eley Kishimoto.
Visit Selfridges London to snap up a one-of-a-kind treasure from Supermarket Sarah.